Back in the days, an Intel Core i7 processor, 8GB of RAM, and just about any discrete graphics card is what used to be the threshold as a gaming laptop.
Gaming laptops today have evolved and come in a variety of styles and designs. To help you pick the best one, we decided to come up with 3 of the best MSI gaming laptops.
In this article, you'll learn…
How to effectively choose the best MSI gaming laptop for you this 2018, depending on your budget.
THINGS TO REMEMBER TO CHOOSE THE BEST MSI GAMING LAPTOP LIKE A PRO
There are only 5 things that matter when choosing an MSI gaming laptop:
GPU
CPU
SSD or HDD
Battery Life
Keyboard and Build
You can go ahead and check the review part below or read the following if you wish to learn how these 5 things affect your selection at the end of the day.
This is responsible for displaying the graphics quality when gaming. In fact, this is the most important hardware you should not skimp on when shopping for a gaming laptop.
Ideally, you should aim for a graphics card that's not lesser than a GTX 1050 Ti or its AMD equivalent for this matter.
Review For The Best MSI Gaming Laptop 2020
#1 MSI GL62M 7REX-1896US BEST BUDGET MSI GAMING LAPTOP
There are many laptops with this price range but nothing beats this one.
This is why we included this on our list because for the price under $1000, you get the following:
A Core i7-7700HQ Quadcore CPU up to 3.8GHz
A Nvidia GTX 1050 Ti 4GB DDR5 VRAM
BOTH 128GB SSD AND 1TB HDD
A quality cooling system with an Ultra-Boost button for extra cooling
Backlit keyboard
Anti-glare screen
Numerical keypads
It's hard to find a 15.6" Full HD gaming laptop that comes with both SSD and HDD. Not to mention that this has a 4GB GTX 1050 Ti.
If I were to name flaws in the build, it's the battery life and the matte black plastic finish that makes fingerprints hard to remove. Regardless, you still experience an average of 3 hours extreme gaming, which is good enough for a gaming laptop this powerful.
If you want the best MSI gaming laptop with a budget of less than $1000, get this one.
#2 MSI GE63VR RAIDER-075 BUDGET PREMIUM MSI GAMING LAPTOP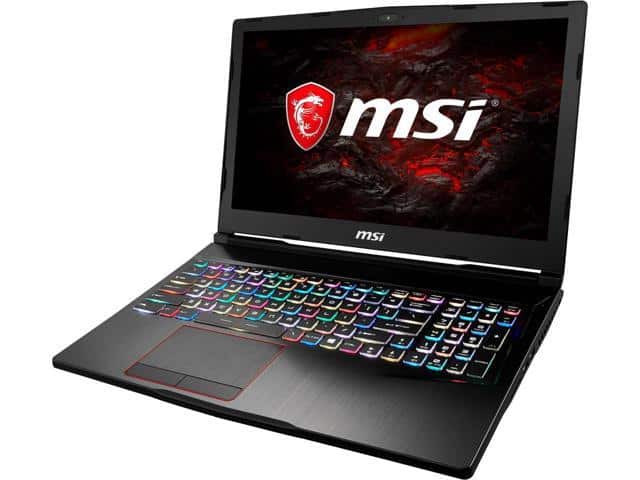 We included this because of what's in the laptop for the price of less than $2000.
This premium MSI gaming laptop has an Intel Core i7-7700HQ processor, a GTX 1070 8G graphics card, 16GB of DDR4 RAM, and 128GB SSD with 1TB HDD to make loading times faster.
Unlike any other laptop in the same price, this 15.6" screen has a refresh rate of 120Hz and a 3ms response time, great for average gamers. If you're into VR, this is perfect for you since this is a VR-ready gaming laptop.
The overall build is sleek and thin with a backlit keyboard. Portability is never an issue with this gaming laptop.
If you're looking to buy a premium laptop but don't want to spend as much as $2000 and over, this is your stop.
#3 MSI GS63VR STEALTH PRO-002 BEST OF THE BEST PREMIUM GRADE MSI GAMING LAPTOP
Gaming and portability – that's what this is.
It's basically similar to the second laptop on the list – but on steroids!
Thanks to its powerful Intel Core i7-7700HQ processor and GTX 1070 8GB video card, you can run just about any AAA game smoothly.
This laptop has a 15.6″ screen with a refresh rate of 120Hz and a response time of 3ms on a 1080p resolution screen. Viewing angles are also great.
The keyboard is backlit and the build is sleek and thin.
Speed is everything with this laptop since this has 32GB of DDR4 RAM and a 512GB SSD storage. Not to mention that this also comes with a 1TB HDD to make sure you always have enough space.
VR? Not a problem! This MSI gaming laptop is also VR ready.
So, if you want the best of the best premium MSI gaming laptop, look no further. This is something you won't unsee even though it's called MSI GS63VR "Stealth" Pro-002.
Final Words
Our list is composed of the best MSI gaming laptops in their budget range so it all matters how much you are willing to spend at the end of the day.
So overall…
We hope this gives you a better insight on which MSI gaming laptop you should get at the end of the day.
Which among the 3 do you want to get? We'd like to hear your choice down the comments below.